... Encouraging healthy habits in gyms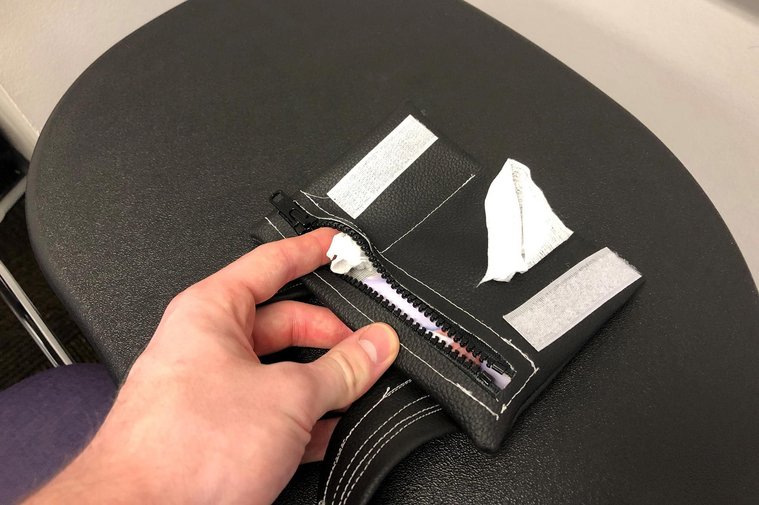 WHAT
An armband made from vinyl faux leather with two compartments: one for antibacterial wipes and another for storing used wipes. The bands can be used to strap the product onto your arm, leg, or water bottle.
WHY
To encourage gym-goers to wipe down equipment before and after use and minimize risk of bacterial infection.
WHO
Team of 5 students in a Human-Centered Design class
WHEN
Winter 2019
GYMS NEED BETTER CLEANING
We found pain points by sending out a survey across Northwestern University's campus.
One response claimed that many gym users fail to wipe down equipment before and after use, and he complained that his efforts as a staff member only go so far in maintaining gym cleanliness.
The current products are 2 large wipe dispensers placed in corners of the weight room in the Henry Crown Sports Pavilion.
To start our design journey with some direction, we outlined who our stakeholders would be (shown right).
HELPING BOTH PARTIES
Our personas:
Andrew is busy and unaware of potential health risks associated with unclean gym equipment. He knows wiping is recommended but is in need of a quick and convenient solution.
Greg wants to make sure he does his part in keeping the environment clean and healthy but is only able to do so when equipment is unused. This means that equipment in high demand is rarely cleaned.
3 ROUTES: HANDHELD, STATIONARY, SIGNAGE
The handheld mockup represented products which users would carry with them around the gym.
The stationary mockup represented products which would be attached to gym equipment for ease of access to the users.
The signage mockup was used to reveal how effective a sign or infographic would be in this context. It was placed on the current products used in the weight room.
Our observations revealed that the handheld product was used most often. Users attributed their behavioral change to convenience. Carrying a portable product incentivized users to utilize it.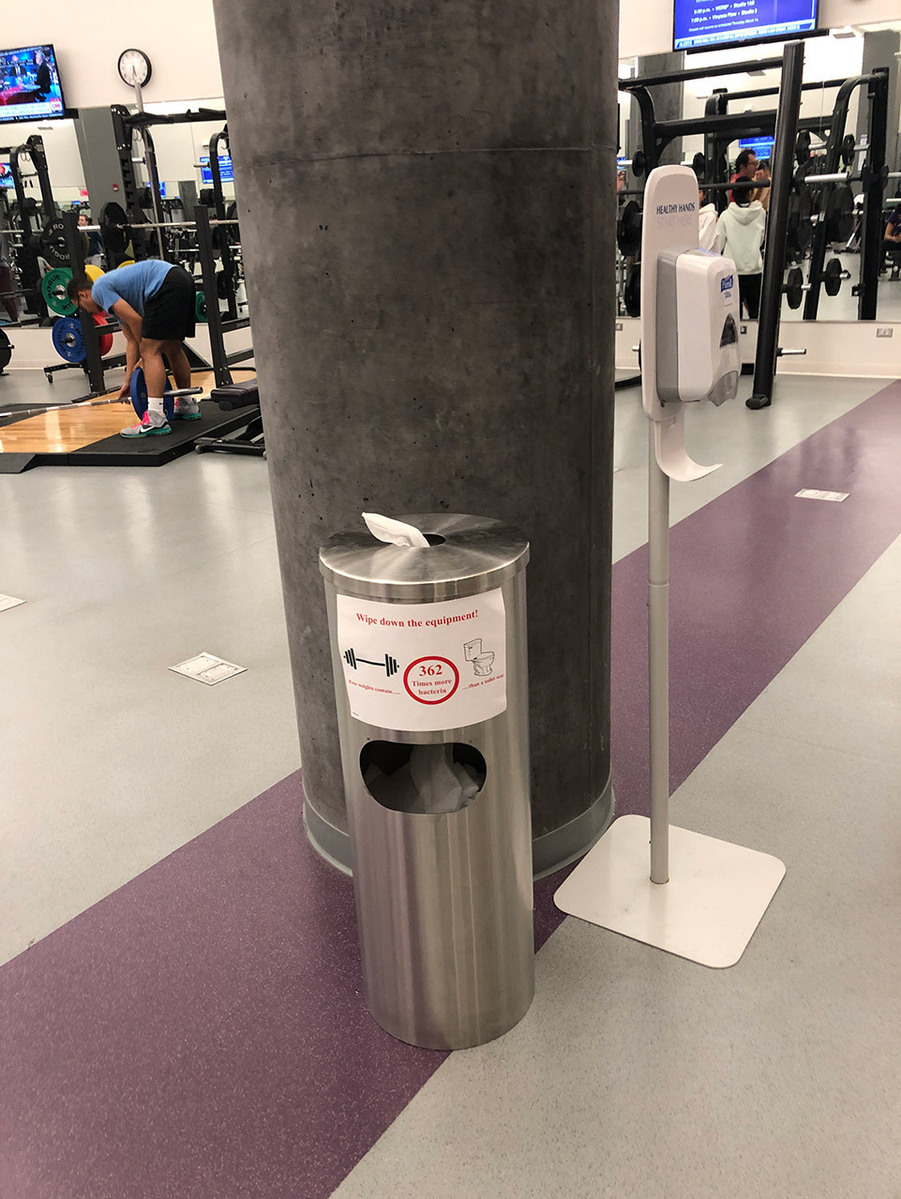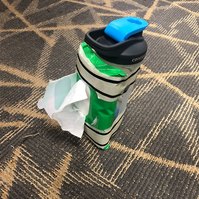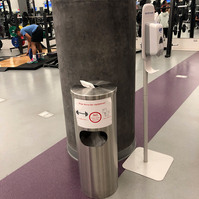 AN INCONVENIENT JOURNEY
We learned that convenience played a huge role in users' behaviors in the gym.

I noted that the wipe dispensers essentially become pit stops that users have to make twice per new machine: once to retrieve the wipes and twice to dispose of them. The stationary mockup we designed observed the same issue, because it was convenient to wipe down the equipment, but it was inconvenient to dispose of the wipe.

GOING DOWN THE HANDHELD ROUTE
We built 3 more mockups (shown below):
A clip-on attachment with antibacterials wipes
A compartment for wipes attached to the bottom of a water bottle (half for storing wipes, half for disposing wipes)
A portable armband that holds antibacterial wipes
User testing revealed that the clip-on attachment was too close to users' faces and led them to experiencing unpleasant odors.
Users enjoyed the features and aesthetic of the bottom compartment. However, many claimed that they would not buy a new water bottle for these additional features.
Several users enjoyed the armband mockup while others described it as uncomfortable to wear.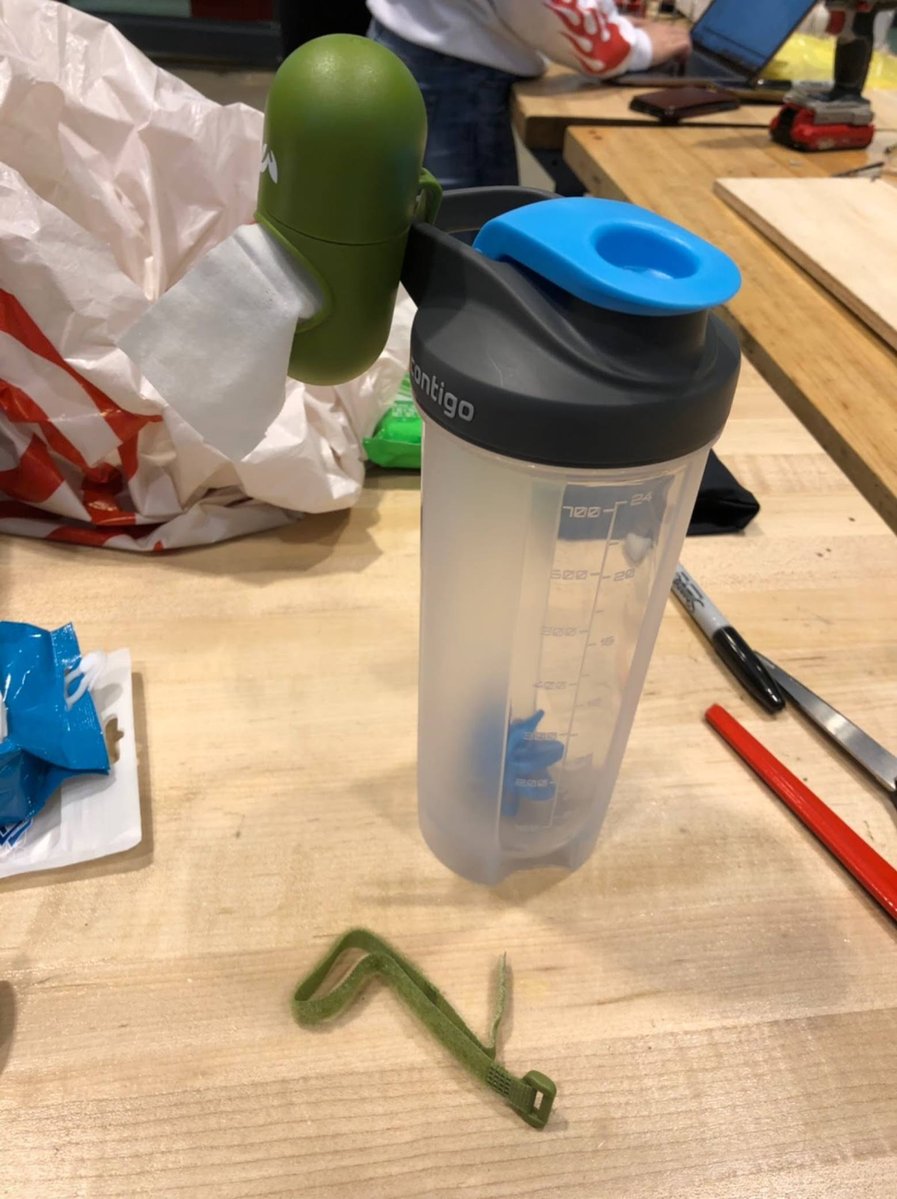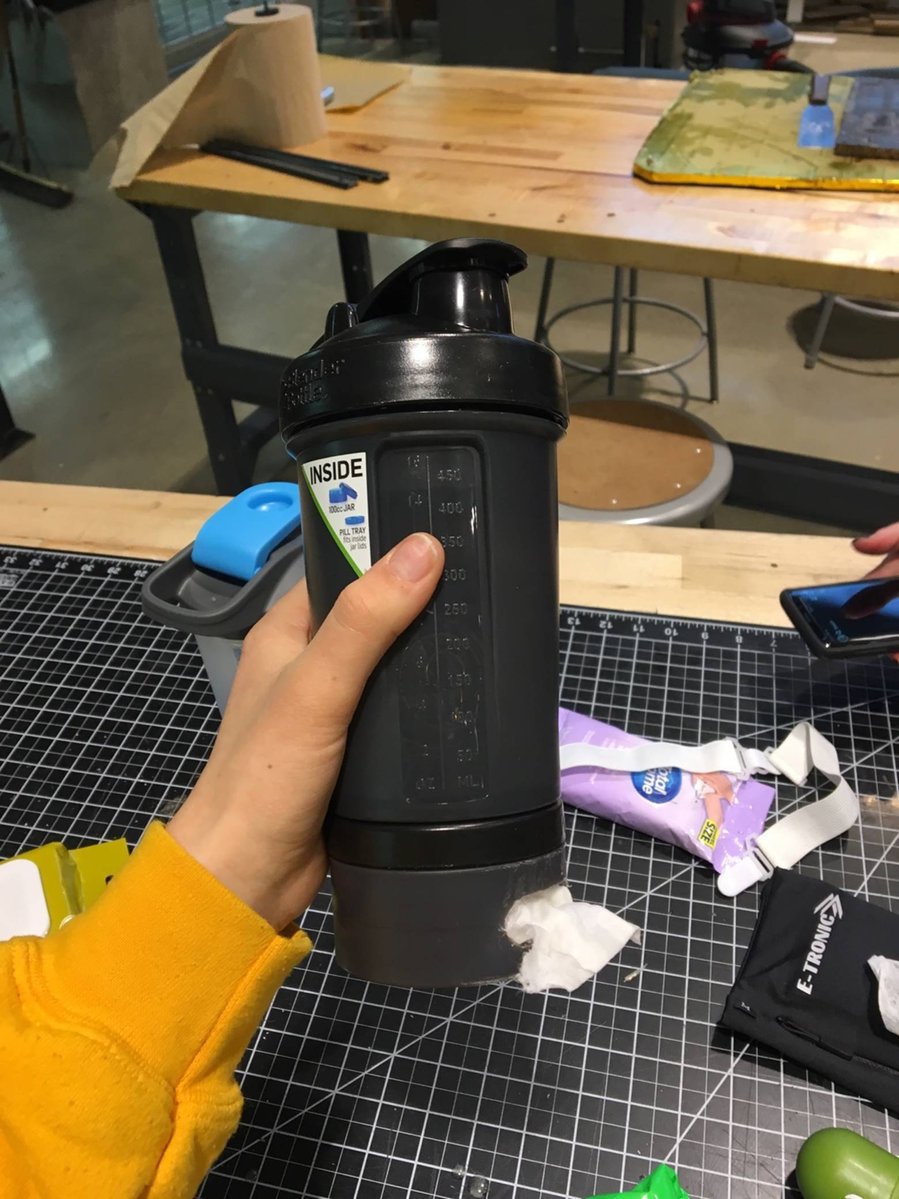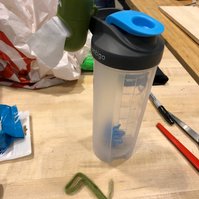 A VERSATILE ARMBAND
We found success in the handheld products; 19 out of 25 machines we observed users use were wiped down (76%).
Taking users' feedback into consideration, we decided to make "WYPE" - a versatile armband which can be securely attached to a user's arm, leg, or water bottle.
We used neoprene rubber for anti-slipping material and Velcro to adjust tightness.
We divided the main body into two compartments: one for storing a package of antibacterial wipes and the other for storing used wipes to dispose of later.