... Adding convenience to style
WHAT
A quick-release pin machined down and threaded to the inside of a S'well-like bottle cap. This allows users to secure the bottle on their person using a carabiner. Modifying the cap maintains the bottle's thermal insulation and sleek aesthetics.
WHY
To afford carrying convenience while minimizing impact on intended aesthetic and functionality.
WHO
Team of 4 students in a Design Thinking & Communication class
WHEN
Spring 2017
FINDING A MARKET WHITESPACE
We started off by brainstorming 100 potential pain points. We then narrowed down the list to 25 pain points which we saw as relevant to our everyday experiences as students.
A common theme that was brought up was carrying many items throughout the day. Within this category, we decided to focus on water bottles.
Through user observation, we noticed that several students owned backpacks without side-pockets, or ones too small to fit a water bottle. User interviews then revealed that students preferred carrying water bottles outside of their backpacks due to risk of spilling.
We noticed that many brands, such as CamelBak, Hydro Flask, and Nalgene, afforded the use of a carabiner, which users can use to attach those bottles to their person.
One popular brand, however, did not afford that, and it was S'well.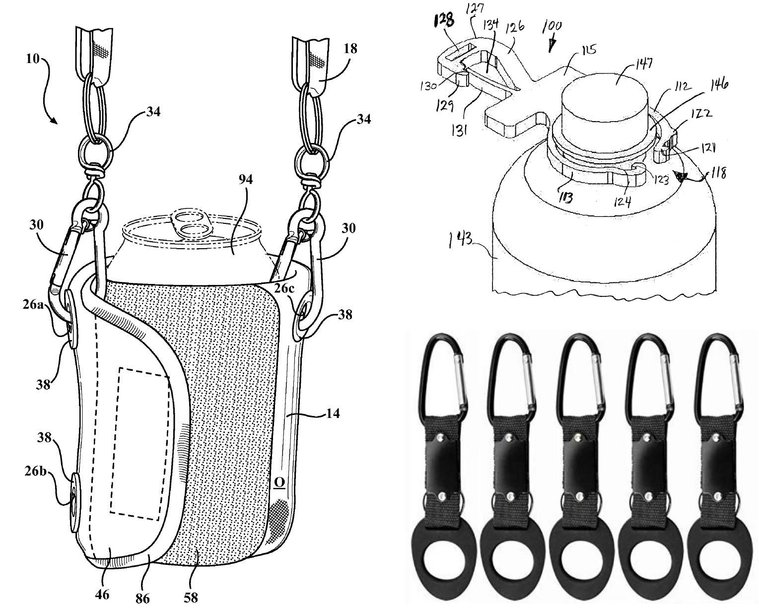 NECK STRAPS & SIDE ATTACHMENTS
We tested two ideas on 5 users: one was a side attachment w/ carabiner, the other was a neck strap w/ carabiner (shown below).
Users unanimously preferred the neck strap over the side attachment.
Points of improvement with neck strap:
Users had to use both hands to remove carabiner from holder and clip onto backpack (and vice versa)
Users forgot to clip carabiner to holder, causing the carabiner to dangle and strike them or the bottle
REDISCOVERING S'well®
S'well pride themselves with their "sleek" and "covetable" exterior and thermally insulative interior. These became our restraints to help us move forward with the project.
Implementing either mockup shown previously would mean taking away from S'well's aesthetic, and trying to integrate anything to their bottle's walls could compromise its thermal insulation function.
This guided us to focus on the bottle cap, and reach the final product we called "Capariner."
A QUICK-PIN SOLUTION
I manufactured our final product by drilling a hole through the top of a S'well cap and inserting a threaded quick-release pin.

I cut open the black seal and screwed in a nut to secure the pin in place.

We then added a key ring for attaching carabiners.